Turkey's iron lady: 'It's time for the men in power to feel fear'

Turkey's iron lady: 'It's time for the men in power to feel fear' Turkey Turkey's iron lady: 'It's time for the men in power to feel fear'
Nationalist politician Meral Akşener emerges as only credible presidential candidate pushing for victory over Erdoğan
Meral Akşener stood near a statue of the Turkish republic's founder, Mustafa Kemal Atatürk, in the Black Sea town of Giresun earlier this year, as she lambasted and mocked the ruling party of president Recep Tayyip Erdoğan.
His apparatchiks had hurt their hands, she told the farmers in the crowd, counting the millions of euros with which they'd enriched themselves while in office. Across the square a giant banner implored: "Save us, iron lady."
Whatever the president touches turns to dust, she said. He once dubbed Bashar al-Assad, Syria's dictator and ally turned foe, "Brother Assad."
Turkish opposition parties unite against Erdoğan in elections Read more
"I hope he never calls me Brother Meral", she said to roaring laughter.
The 61-year-old Akşener, nicknamed Asenaor "she-wolf" by her admirers, has emerged as the only credible challenger to the incumbent president ⠀" the dominant figure in Turkish politics in the past 16 years â€" since he last month called snap elections for 24 June, a year and a half ahead of schedule.
The winner of the presidential poll will assume an executive presidency with sweeping powers that voters narrowly approved in a referendum last year.
Polls show an easy victory for Erdoğan in the first round, but a much tighter race within the margin of error in the second round if he is pitted against Akşener.
"Back when everything was up in the air, I was the first person to declare my candidacy against Erdoğan," Akşener, the leader of the İyi (Good) party, told the Guardian. "I have said this since the beginning of the process, in the first round, everyone should simply vote for their own candidate. In the second round, for the sake of our democracy, for our coun try, the opposition should leave aside its bickering and support the opposition candidate, whoever it is.
"This election is one of the most important elections of our country's history."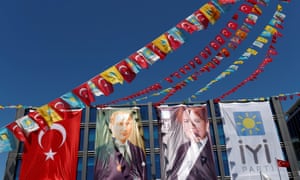 The ascendency of Erdoğan's ruling and Islamist-oriented Justice and Development (AK) party has been a fact of Turkish political life for a decade and a half. It dominates the conservative and nationalist right after an alliance with the Nationalist Movement party (MHP) of Devlet Bahçeli, with whose help it was able to win in the referendum.
Akşener â€" a devout Muslim and granddaughter of immigrants who arrived from Greece in the 1920s during the traumatic population exchanges after the Turkish war of independence â€" was a veteran of Bahçeli's party, serving as interior minister in the 1990s, until an insurgent challenge to his leadership forced her to leave.
She is hoping in her presidential campaign to attract both defectors from the AKP's camp, conservative heartland voters unhappy with the direction of the country and swirling allegations of corruption in the party's ranks, and opposition members who are fed up with their political bloc's failure to defeat Erdoğan in any election since 2002.

Akşener has pledged to roll back the presidential system, to put the country's relations with the EU back on track, and to restore the rule of law in Turkey, where freedoms have been curtailed under a state of emergency in place since a failed coup attemp t in July 2016.
"Having one person in charge will cost Turkey a lot in the middle and long term. Democracy is malfunctioning in Turkey and we need to re-establish it, and to restore the rule of law and the judiciary," she said.
"I am a practicing Muslim, I have performed the pilgrimage, but the mind that governs us must rely on laws. The state's secularism makes it possible to change laws that are made for people and to change them according to the needs of citizens over time."
Akşener emerged as the opposition's almost default candidate after Abdullah Gül, an ex-president and founding member of Erdoğan's AKP who fell out with the Turkish leader, decided not to run. The pro-Kurdish People's Democratic party (HDP) nominated its leader, Selahattin Demirtaş, despite his languishing in a prison cell since November 2016.
The Republican People's party (CHP), a hardline secularist party with limited appeal among religious conservatives t hat has not won an election since 2002, will likely end up backing Akşener as a candidate who can reach across the aisle.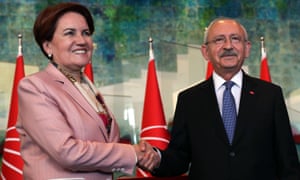 "Turkey is mainly a right-wing country â€" since the country became a multiparty democracy in 1950, the left has ruled for only 17 months," said Soner Cagaptay, director of the Turkish research program at the Washington Institute and author of a biography of Erdoğan. "Her party will be a serious challenge, at least a major headache to him from his soft flank, the right.†
But that rightwing appeal means Akşener will also have to contend with the ultranationalist and racist history of her political forebears, a legacy that has earned her İyi party comparisons with Europe's populist, anti-immigrant wave, a charge she vehemently denies.
Someone to watch over me: how Atatürk lives on in modern Turkey â€" in pictures Read more
The Grey Wolves, the once-paramilitary wing of the MHP, was implicated in numerous incidents of political violence in the 1970s and 80s, the massacre of Alevis, and an attempted assassination of pope John Paul II.
Kurdish voters in Turkey's southeast have always been wary of nationalist politicians, and Akşener's tenure as interior minister occurred during one of the worst periods of human rights violations by the state against Kurds in the region.
She will face an uphill battle in convincing them to back her in a possible second round of presidential elections, and she has said little on efforts to resolve the Kurdish issue, speaking in more general terms about preserving the nation's identity while respecting the rights of minority groups. Akşener has said her party, headed as it is by the granddaughter of immigrants, is open to all identities.
And, in a male-dominated political culture, she has another message. "Now it is time for them, the men in power, to feel fear," she said.

Topics
Recep Tayyip Erdoğan
Turkey coup attempt
features
Share on Facebook
Share on Twitter
Share via Email
Share on LinkedIn
Share on Pinterest
Share on Google+
Share on WhatsApp
Share on Messenger
Source:
Google News Turkey
|
Netizen 24 Turkey