Turkey arrests former opposition MP on terrorism charges

Europe Europe Turkey arrests former opposition MP on terrorism charges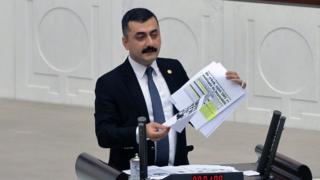 Turkey has arrested a main opposition politician, Eren Erdem, on terrorism-related charges, state media say.
Mr Erdem was jailed on Friday ahead of his September trial, just days after losing his parliamentary seat with the secularist Republican People's Party (CHP) in elections on 24 June.
He is charged with aiding the group blamed for the 2016 attempted coup against President Recep Tayyip Erdogan.
Mr Erdem, 31, has not commented on the charges but confirmed his detention.
In a tweet in the early hours of Friday, Mr Erdem said (in Turkish): "I have been detained. I don't know the reason. I was detained by police outside my home."
Istanbul prosecutors are charging him with assisting the followers of the US-based Muslim cleric Fethullah Gulen, who denies orchestrating the failed 2016 putsch.
In elections on Sunday, President Erdogan won a new five-ye ar term with increased executive powers and his conservative AK Party and its nationalist allies secured a parliamentary majority.
Erdogan's victory in 100 and 500 words
Reality Check: The numbers behind the crackdown in Turkey
Turkey jails 25 reporters over 'coup links'
Turkey country profile
Mr Erdem is accused of publishing illegal wiretappings, allegedly of Mr Erdogan who was premier at the time and other senior officials, when he was the editor of opposition newspaper Karsi in 2014.
The government denounced the publication, which related to a 2013 corruption scandal, as "an attempted coup" orchestrated by Mr Gulen.
The former lawmaker had already been barred from leaving Turkey due to the investigation, and now faces between nine and a half to 22 years in jail if found guilty.
CHP politician Baris Yarkadas said his colleague had been arrested as part of an attempt to fabricate links between the party and terrorism.
Pointing out that Mr Erdem was a journalist, he said, "Journalism is not a crime."
Analysis: Power of Turkey's Fethullah Gulen
Rights groups outraged by Turkey arrests
Since July 2016, tens of thousands of people have been arrested over suspected links to Mr Gulen, as well as Kurdish militants waging an insurgency in the south-east.
Mr Erdem is the second CHP politician to be jailed after Enis Berberoglu was sentenced to 25 years in prison for leaking "secret information&quot ; to a newspaper.
Top Stories
Trump narrows down Supreme Court candidates
The US president has five people in mind, including two women, and will name his choice on 9 July.
30 June 2018
Steel firm Thyssenkrupp backs Tata merger
30 June 2018
US ambassador quits 'ove r Trump comments'
30 June 2018
Features
The young Austrian leader sharing power with the far right
Video
Migrant mum called 'animal' for breastfeeding
Drones, dogs, drilling and desperation
All you need to k now about penalty shootouts
BBC Future: The 'quiet eye' secret of elite concentration
Review: Michael Jackson - On The Wall ★★★☆☆
Video
How can you dance without music?
My fortnight playing Fortnite
The best news photos from the past week
Why you can trust BBC News
BBC News Services
On your mobile
On your connected tv
Get news alerts
Contact BBC News
Source:
Google News Turkey
|
Netizen 24 Turkey