Global markets braced for hectic trading as Turkish crisis unfolds

Turkey Global markets braced for hectic trading as Turkish crisis unfolds
Erdoğan accuses foreign interests of waging trade war after lira goes into freefall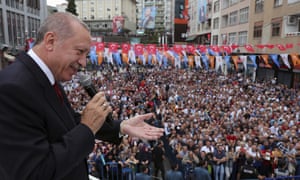 Global markets are braced for another hectic day of trading amid Turkey's unfolding economic crisis, after the country's currency, the lira, plunged 20% to record lows on Friday.
Recep Tayyip Erdoğan, Turkey's president, remained defiant over the weekend, accusing foreign interests of waging an economic war against Turkey, and pledging trade measures to reduce reliance on the dollar and US markets.
He told party officials on Sunday in the Black Sea city of Trabzon: "We will respond to those, who declared trade war on the entire world and included Turkey in it, by steering toward new alliances, new markets."
The currency went into freefall last week after Donald Trump, the US president, slapped tariffs on the country's steel exports and declared, via Twitter: "Our relations with Turkey are not good at this time."
Turkey's economic crisis deepens as Trump doubles tariffs Read more
But Turkey's woes spread far beyond a trade dispute. Investors are increasingly concerned about the $350bn in foreign debt held by Turkish banks and companies, and their ability to finance it as the currency weakens and inflation soars.
As the crisis has deepened, Turkish consumers have faced rising food, fuel and medicine prices. The inflation rate is expected to jump rapidly from the current 15.4% official rate.
The Turkish central bank has offered no indication that it will raise interest rates to combat high inflation or other measures to stem the drop in the value of the currency.
"They are threatening us," Erdoğan said on Saturady at a rally in the city of Ordu near the Black Sea. "You cannot bring [the Turkish] people to their knees by using a threatening language." Referring to the US, he said: "It is a shame. You prefer a pastor to a strategic ally of yours in Nato."
Local media, which are largely loyalist and almost entirely owned by allies of Erdoğan, echoed the message of a nation besieged. In an article titled "Lying news agencies", the pro-government newspaper Sabah took aim at Bloomberg news and the Financial Times for their coverage of the financial crisis. Another article was headlined: "Trump the sabot eur".
Silence from the central bank has highlighted investor fears over the institution's independence from Erdoğan, who was sworn in last month with wider executive powers that many worry will be used to wield greater influence over monetary policy.
Erdoğan opposes raising interest rates to combat high inflation, a measure many analysts have urged. And his appointment of his son-in-law, Berat Albayrak, to the post of treasury and finance minister has also heightened concerns that he will exert greater influence in fiscal strategy.
Erdoğan gets backing to strengthen his autocratic grip on Turkey Read more
Statements by public officials have focused on portraying the financial crisis as an attack from abroad by the US and other agents, urging Turks to rally around their government to defeat the aggression.
Relations between the US and Turkey have been worsening for years, primarily over disagreements on Syria. Ankara initially wanted a more forceful US intervention against the Syrian president, Bashar al-Assad, and later took issue with Washington's alliance with Kurdish militias in the fight against Islamic State.
Turkey considers those militias an extension of its own Kurdish insurgency, and treats their power as a national security threat. The latest dispute was over the decision by a Turkish court to extend the detention of Andrew Brunson, an American pastor accused of espionage for Kurdish militants and the Gülen movement, a group accused of masterminding the 2016 coup. Turkey had also pledged to buy the S-400 missile defence system from Russia, a step that strained its ties with the broader Nato alliance.
Topics
Recep Tayyip Erdoğan
Stock markets
Inflation
Economics
Europe
news
Share on Facebook
Share on Twitter
Share via Email
Share on LinkedIn
Share on Pinterest
Share on Google+
Share on WhatsApp
Share on Messenger
Source:
Google News Turkey
|
Netizen 24 Turkey