Leaders Of Russia, Iran, Turkey Meet Amid Fears Of More Syrian Bloodshed


The presidents of Russia, Turkey, and Iran are meeting on September 7 for a summit in Tehran amid hopes that they will be able to avert a bloody fight in the last opposition stronghold in Syria where forces have been amassing for battle.
The three leaders are expected to try to forge an agreement to prevent what the UN has warned could be a catastrophic offensive by Syrian President Bashar al-Assad's forces to recapture Idlib province, which borders Turkey and which harbors tens of thousands of the last armed rebels fighting Assad.
An estimated 10,000 Al-Qaeda-linked fighters are among those rebels, and the province is also home to about 3 million civilians -- nearly half of them displaced from other parts of Syria.
Russia and Iran are both allies of the Syrian government, which has set its sights on retaking Idlib in what it sees as the next critical step t o clinching a military victory in the seven-year civil war that has killed more than 400,000 people and displaced millions.
For Syria and Russia, the province is also strategically important because it borders Latakia province, Assad's main stronghold and the site of Russia's biggest airbase in the country.
Turkey backs many of the rebel groups in the province, although it recently moved toward its negotiating partners in declaring that the dominant rebel group, the Al-Qaeda affiliate Hayat Tahrir al-Sham, formerly known as the Al-Nusra Front, is a "terrorist organization" that should be eliminated.
Russian officials have said such "terrorist" groups should be "liquidated," but the Russian military has also said it is seeking to separate out extremist fighters from other rebel groups supported by Turkey.
While Syria has been massing thousands of troops in preparation for an assault, Russia, which has provided air su pport to the Syrian Army since 2015, has also made a big show of force by moving 10 warships and two submarines off the coast of Syria.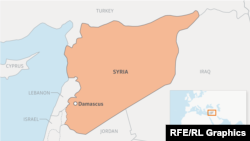 Western powers, which never formally entered the Syrian conflict other than to back Kurdish-led militias that were instrumental in driving the extremist Islamic State group from its stronghold in northern Syria last year, have been left largely watching the brewing battle in Idlib from the sidelines.
The United States, France, and Britain have warned, however, that they would take action if Assad uses chemical weapons in his assault on Idlib, as he allegedly has done in battles to retake other parts of the country.
Russia and Syria and Iran have denied planning a chemical weapons attack, but U.S. special adviser for Syria Jim Jeffrey told reporters on September 6 that "there is lots of evidence" to back the U.S. claim.
He added that "any offensive is to us objectionable as a reckless escalation" of the war.
The UN has warned that an all-out offensive in Idlib will lead to death and destruction even greater than that seen previously in Syria, including the displacement of another 800,000 civilians -- most of whom are likely to seek refuge in nearby Turkey, which already hosts 3.5 million war refugees.
Turkish President Recep Tayyip Erdogan has warned against such a catastrophic outcome, and has much at stake in efforts to prevent it at the Tehran summit.
Staffan de Mistura, the United Nation's Syria envoy, made a personal appeal to Erdogan and Russian President Vladimir Putin to work together to find a "soft solution to this crisis."
"We look to Russia, Turkey, Iran to come with hope to the civilians in Idlib," he said. "There are indeed many more babies than there are terrorists in Idlib. There are a million children ."
De Mistura's call on the negotiators -- in particular the main power broker, Russia-- to protect civilians was echoed by eight European countries in a joint statement on September 6.
The Tehran summit will be hosted by Iranian President Hassan Rohani, whose fighters have provided critical support for Assad throughout the war. It marks the third time the presidents of Turkey, Russia, and Iran have met over Syria in less than a year.
Their previous meetings in Sochi and Ankara established so-called de-escalation zones in several areas, including Idlib, that temporarily reduced violence.
All these agreements were later violated, however, as Syrian troops backed by Russia and Iran moved to retake those areas after strafing them with artillery and air strikes -- a pattern which could be repeated in Idlib.
In regaining control over other parts of Syria in the last year, Russian-brokered surrender deals offered safe passage for tens of thou sands of rebels and their families to Idlib, which is why the province became the last bastion of the armed resistance.
With reporting by AP, AFP, and dpa
Source:
Google News Turkey
|
Netizen 24 Turkey